If your home is classic or craftsman, you may be considering a custom traditional door to complement your entryway, but how do you make it truly unique? When people think of traditional door styles, they might think of traditional barn doors, double doors with slim glass windows, or classic square silhouettes — but the beauty of a custom design is that you don't always have to follow a formula. 
While these elements are certainly hallmarks of traditional door styles, no two entryways are ever the same. Each traditional iron door can be completely customized to suit your home's style. Choose from five different finishes, various hardware styles, textured glasses, and silhouettes like square top, eyebrow, and round top. We give you the tools to create your own definition of "traditional."
Check out a few of our favorite traditional door styles featuring five unique visions.
A Twist on Traditional
However you define your style, design your own traditional door from scratch.
Arched & Elevated
Boldly offsetting the home's vibrant white exterior, this contemporary take on a traditional door style is simply breathtaking. We love the curved top and Charcoal finish that create a compelling contrast between the siding and the entryway. And, the textured Seedy Baroque glass windows provide a touch of privacy without blocking natural sunlight from entering the foyer. As an added element that weaves in classic style, the door is complete with traditional-inspired pull handles and hardware.
Stately & Sophisticated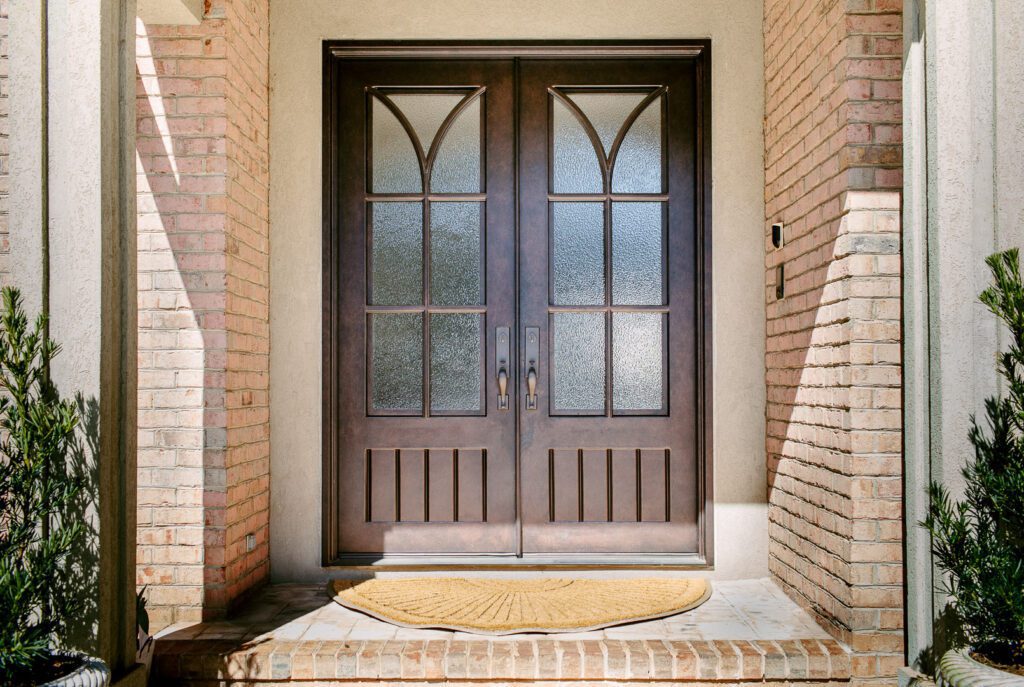 Reminiscent of traditional farmhouse doors, these sleek double doors feature thoughtful and unique linework offset by textured Aquatex glass. Typically, traditional door styles feature straight lines that divide the glass into square window panels, but these homeowners flexed some creativity, creating a unique triangle-shaped window at the top of the door. This entryway also features a warm and welcoming Bronze finish and complementary, brushed metal pull handles that make these new doors look effortlessly vintage.
Sleek & Simple
Sometimes traditional doors take a lesson from their modern counterparts—and these doors aced the test. Featuring the bold Charcoal finish and large, clear glass windows typically found on our modern iron doors, this entryway takes the concept of traditional barn doors and flips it on its head. Since most of the door panels are made up of windows, the foyer is instantly brightened, and the classic brick home is seamlessly invited into the modern era.
Elegant & Parisian-Inspired
Inspired by the charming streets of Paris, these traditional double doors are simple yet captivating. Complete with grand custom pull handles, large clear glass windows, and a Charcoal finish, this entryway leaves a lasting impression that complements the home's classic white exterior and black shudders. Learn more about this home makeover project and see how we collaborated with the homeowner and professional interior designer, Tula Summerford.
Rounded & Regal
Stepping through these rounded doors feels a bit like being welcomed into a castle—and we love it. The elegant round shape reminds guests of decades past, while the eye-catching Charcoal finish, Aquatex glass texture, and interesting line work usher in a breath of fresh air. Here again, the textured glass provides a sense of privacy without taking away a lot of natural light.
What does your take on a traditional door styles design look like? If you're feeling inspired to start your own entryway makeover, get in touch with our team to set up a consultation by phone or at one of our design studios. Before we chat, be sure to learn why choosing an iron door is a good option, and read our expert tips on how to design the custom door of your dreams.
Frequently Asked Questions About
Traditional Door Styles
What is a traditional door?
A traditional door is commonly thought to be made of wood, featuring a classic double door silhouette. However, our traditional doors are made from high-quality iron and can be customized to suit any vision — from single panel entryways with textured glass to double door entryways with large, clear glass windows.
What kind of door does a colonial house need?
For a colonial house, we recommend customizing a
traditional door style
to complement the home's classic exterior. And, depending on the width of your front entryway, we also recommend a
double door as opposed to a single panel door
for a more expansive and welcoming entrance.
What color hardware is timeless?
Choosing the right hardware for your custom door is critical, and you want to make sure you're complementing the door's finish and style. Having said that, the most popular and timeless hardware color is Brass. We find that the Brass colored hardware is a suitable match to our custom iron doors. 
Learn more about iron doors today.
Clarkhall contact form - Dual Column
"*" indicates required fields